Welcome to CitA's exciting event schedule for 2023
​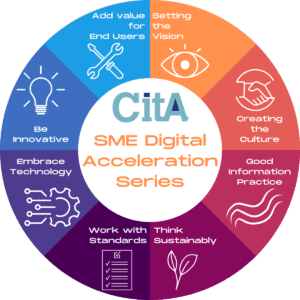 This eight-part in-person series aims to assist construction SMEs to learn of how increased digital adoption can improve business efficiency, save on costs and increase revenue growth.
The programme is broadly designed around three core messages that collectively will stimulate the adoption of digital by smaller to medium sized firms in the Irish construction industry.
1. Motivation– Set the right motivation for increased digital adoption and effective monitoring of digital capability.
2. Enablement– Enable all stakeholders to acquire the skills, knowledge and support to drive the cultural change required to realise digital transformation of the Irish construction industry.
3. Collaboration – Hear how working in a culture of collaboration, supported by standard information flows allows for improved business outcomes.
Each event will have three key presentations on:
1. Motivational strategies to accelerate digital adoption by construction SMEs.
2. Networks and services currently available in Ireland to support increased digital adoption by Irish construction SMEs.
3. Practical use case studies from Irish construction SMEs on the value and lessons learned of digital adoption.
| | | | | |
| --- | --- | --- | --- | --- |
| Dates | Theme | Titles | Speakers | Location |
| Wednesday, 8 February | Setting the Vision | Shared vision for a digitally mature Irish construction industry | Lis O'Brien, Emma Hayes, Mark Whitehead | Chartered Accountants House, Pearse Street |
| Wednesday, 8 March | Creating the Culture | Creating a culture that motivates employees to embrace digital change | Saoirse Colgan, Rob Fox, David Mullen | Chartered Accountants House, Pearse Street |
| Wednesday, 5 April | Good Information Practice | Eliminating information silos and poor information practices | Sarah Ryan, Liam Willoughby, Jonathan Reinhardt | Chartered Accountants House, Pearse Street |
| Wednesday, 10 May | Think Sustainably | Preparing for a net zero carbon and sustainable future through digital | | |
| Tuesday, 6 June | Work with Standards | Facilitating ongoing digitalization through common data structures | | |
| September | Embrace Technology | Adoption of smart digital technologies to collate real time data | | |
| October | Be Innovative | Supporting procurement reform and MMC through digital | | |
| November | Add Value for End Users | Delivering lifecycle BIM for effective facilities management | | |

The main aim of the conference is to create a space where we can continue to learn about the greater potential in the wider adoption of BIM in the Irish construction industry.
This three-day conference will focus on three main themes that the Irish construction industry needs to focus upon.
1. Motivation – Industry stakeholders must understand how BIM benefits them, adds value rather than cost, and is the necessary first step towards digital transformation of the industry.
2. Enablement – It also requires helping all stakeholders to develop new skills, and changing behaviours to support new work processes. At the government level, it requires a long-term commitment and innovative financing to get the technology into the hands of the stakeholders who need it.
3. Collaboration – Adoption requires better teamwork through using integrated contracts, new forms of collaborative procurement and open data-sharing standards to bypass the limitations of silo working and out-dated analogue work practices.

Dates to be confirmed